To get your free estimate call us at:
617-458-2340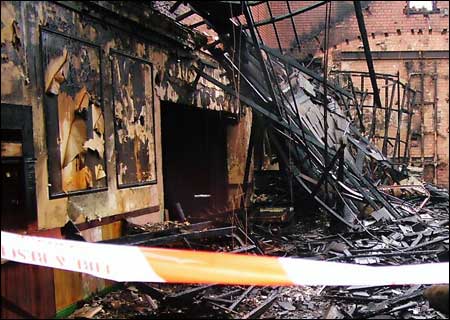 Need fast recovery from fire damage? Our technicians are experts at helping homes and businesses get back on their feet, providing debris removal and repair or replacement of building structures and even furniture. Fire damage relief and recovery isn't simply about throwing everything in the garbage; the situation can be highly complex due to the unique properties of smoke and the different combinations smoke and fire can take to create specific types of damage. When you want it done the right way right away, look no further than WaterDamageInBoston.com and choose the quality and value you deserve!
WaterDamageInBoston.com is fully licensed and insured to provide premium services relating to smoke and fire damage relief and recovery. We have been serving a diverse list of clients throughout the great Commonwealth of Massachusetts for over twenty years with industry standards and best practices when it comes to fire damage, and we will do it for your home or place of business as well in record time with a minimum of fuss. As a "one-stop shop" we will even deal with your insurance company for you! For like no other company in the business we understand how disruptive – not to mention frightening and traumatic – it can be to experience fire, and the loss of property involved can be substantial. WaterDamageInBoston.com will fight for you to make sure that you receive every dollar and cent you are entitled to under your insurance policy!
It all starts with a free telephone consultation that is of no obligation to you whatsoever, and we will even visit you ourselves free of charge just to fully take in the situation. Our resulting quote to you will represent the best, most complete and cost-effective solution for getting you back on your feet and moving forward again, with fully licensed, insured, and certified professionals doing everything necessary. And as previously mentioned, we will even tackle administrative tasks like those involving your insurance company and its claims adjusters – because who needs more headaches? Choose WaterDamageInBoston.com and look no further for fire damage relief and recovery – in all its forms!
WaterDamageInBsoton.com is the go-to you want when you want it done from start to finish. Contact us anytime to have a rapid response team dispatched anywhere to help you recover from anything. Residential or commercial, no job is too big or too small for our experienced experts.
WaterDamageInBoston.com. Restore and repair the right way, right away.
Get a Free Estimate
To get your free estimate call us at:
617-458-2340
We are available to assist you 24hrs a day.
We can even handle your insurance claims!
Get in touch